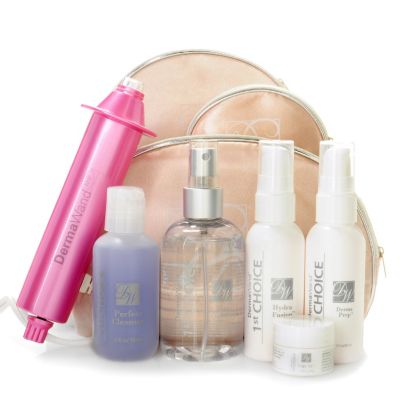 In many places around the globe, winter conjures images of skiing, hot chocolate, and being bundled up in a sweater. However idyllic winter may be, though, it is also really harsh on our skin – particularly those of us with sensitive skin. Rough winds, dry heat, and dipping temperatures leave us dry, cracked, and wind-burned – not exactly the best look!
But there's a great solution: microdermabrasion. Normally reserved for expensive spa or salon treatments, recent advances in treatments have created a new wave of products to be used in the comfort of your own home, for a fraction of the price of the spa. These
fantastic microdermabrasion at home products
are great for exfoliating dead, dry winter skin away to reveal younger-looking skin below the surface. Microdermabrasion has also been known to temporarily decrease fine lines, minor wrinkles, and acne scars in addition to exfoliation.
When looking for products, try browsing online at retailers like ShopNBC to weigh customer reviews and read product specifications. This will help you determine what's best for you.  You can purchase full kits with exfoliating wands, cleansers, and moisturizers for the ultimate microdermabrasion at home experience, like the RHF DermaWand Kit pictured above. For those who aren't quite ready for the full treatment, microdermabrasion masks and cleansers are also available. So whatever your skin type or level of commitment, get glowing this winter – without breaking the bank! – with microdermabrasion at home.
*This post is partnered by ShopNBC.com